GO THE EXTRA SMILE :)
Gulf Coast State College has a history of committing volunteer time in our service district of Bay, Gulf, and Franklin Counties. In August 2016, the College introduced the Commodores Care campaign to expand our volunteerism efforts. Gulf Coast is committed to linking our employees to meaningful volunteer opportunities that support community-driven change with the added benefit of personal and professional development.
UPCOMING OPPORTUNITIES
NATIONAL "PI" DAY
Gulf Coast Math Professors got "pi"ed on Tuesday, March 14 to raise money for Commodores Care. Students, staff, and friends purchased tickets to see their favorite or maybe not-so-favorite math professor get "pi"ed. The top three professors to get "pi"ed were Lloyd Harris, Ric Mensitieri, and Terri Bedford. The Math Department raised over $700.00 for Commodores Care.
COMMUNITY AWARENESS DAY
The 2nd annual Community Awareness Day hosted by the Bay County Health Department was held this past Saturday, February 18th, in Southport. The event is for low income families in Bay County. Gulf Coast State College collected five boxes of food for donation. Organizers of the event were excited to see they had enough food for every family that came on Saturday to take home a bag of groceries. Several Gulf Coast employees were on hand to represent the college.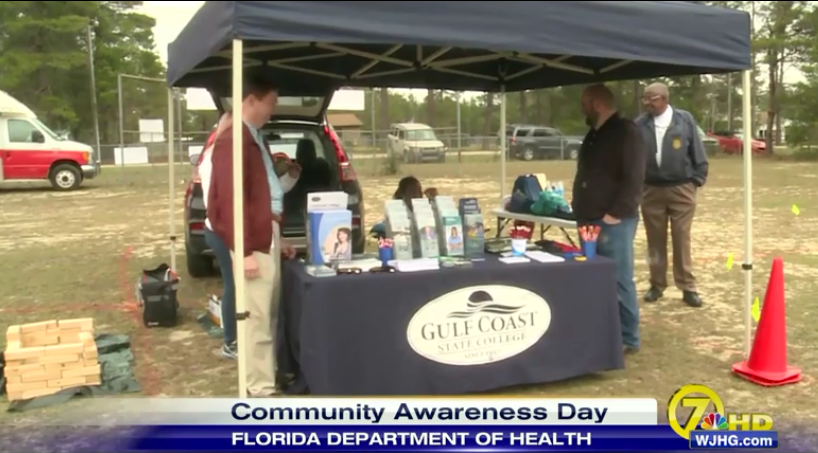 HAVE MORE QUESTIONS?
Connie Head
850-769-1551, ext. 3366
chead@gulfcoast.edu