OneScreen Instructions:
Updated: 8/20/2021
When you power on the display from the touch panel, it should default to the Smart Station computer. If it does not, touch the preview window in the center of the display. There should be a green light on HDMI 1.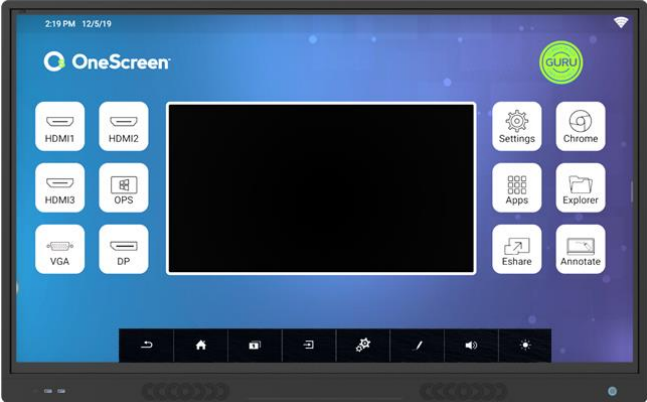 Swipe up from the bottom of the display to open the toolbar. On this toolbar you will find: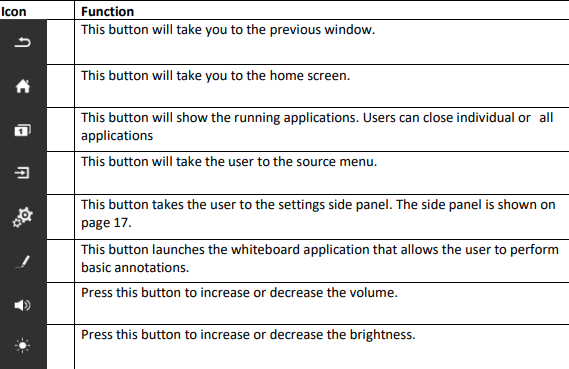 Annotation:
Once you select the annotation icon, you will get a new toolbar with the following options:
Pen – Change the size and color
Eraser
Ellipsis – Save the current image on screen
Minimize
Brush – Erase the entire screen
You can annotation with the provided stylus or your finger. Up to ten people can annotation at a time. You can also use the palm of your hand for erasing.
Use the onscreen slider in the lower left-hand corner of the display to switch the image over to whiteboard mode.

In whiteboard mode, you will have the following features:

Pen
Eraser
Resize
Undo/Redo
Save the current project on screen
Minimize
Brush – Erase the entire screen
You can add pages to your whiteboard and navigate through them with the icon on the bottom right hand corner.

Saving Images to USB:
USB devices can be inserted into the front of the display. Screenshots can be saved onto a USB directly or to the display's memory and transferred to another device later.
Go back to the HOME screen and select "Explorer," then "Choose Folder."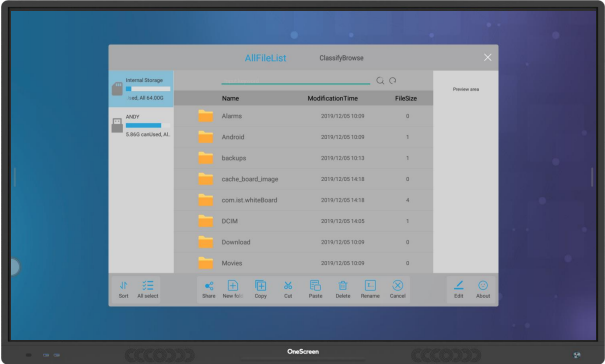 You will see your attached device as well as everything saved on the display. Files can be copied and pasted from the display memory to your device.
If you have any questions regarding the display, please contact Tech Support at extension 3303 from any classroom phone.