Looking for a Delicious Career?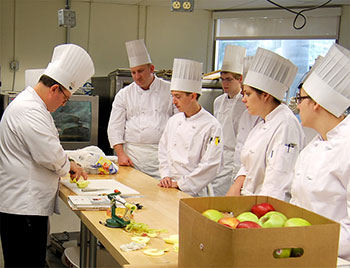 Do you dream of becoming an executive chef or managing your own restaurant? As a culinary management student at Gulf Coast State College, you'll gain the practical culinary skills and business knowledge you need for a rewarding career in the field. Gulf Coast State College offers two distinct Associate in Science (AS) degrees - Culinary Management AS and Hospitality & Tourism Management AS We also offer two College Certificates - the Chef's Apprentice Certificate and the Culinary Arts Certificate. Both certificates are based on core curriculum in the kitchen lab and fully apply to the AS degrees.
For many aspiring chefs, this is the right time to think about starting a culinary career. The restaurant industry is booming. As the second largest employer, behind only the government, the restaurant industry employs 14.4 million people, in both front-of-the-house and kitchen positions, according to the National Restaurant Association (NRA). And both the US Bureau of Labor Statistics and the NRA predict that this number will continue to grow over the next decade.
As a culinary student at GCSC, you will receive hands-on training in our culinary classroom, the John Holley Dining Room. You will learn how to prepare food and serve in the front of the house, both as a work of art and as practice. Because there is more to becoming a chef than learning kitchen skills, our programs incorporate purchasing, pricing menus, supervising employees, designing nutritional meals and maintaining a sanitary workplace to guarantee your future success.
Accredited by the American Culinary Federation Education Foundation Accrediting Commission, a degree in Culinary Management at Gulf Coast State College is a two-year adventure that will give you the skills you need for a rewarding culinary career!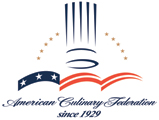 Why Choose an American Culinary Federation Education Institute Accredited Program?
The American Culinary Federation Education Foundation Accrediting Commission (ACFEFAC) has certified that the culinary arts, baking & pastry, and/or food service management programs offered at Gulf Coast State College have substantially met the standards set by the only accrediting commission dedicated to culinary arts at the post-secondary level.
What Does This Mean for You?
You can feel confident about choosing Gulf Coast State College to pursue your culinary career because our programs have been judged by professionals in the field, and have passed the standards set by the educational department of the largest culinary arts organization in the United States (25,000 members). Our program content is current and is taught by top professionals who will assist you in networking effectively in the job market.
Other Benefits
A graduate of an accredited program who can evidence a year's work experience in culinary arts can become a Certified Cook or Certified Pastry Cook at no cost. This is the first step on the certification ladder, which includes Certified Sous (Pastry) chef, Certified Executive (Pastry) Chef, and Certified Master (Pastry) chef. These designations are well-known throughout the world as standards of excellence.
Also available to students, in accredited programs who are affiliated with their local American Culinary Federation (ACF) chapters, are scholarships up to $500 per semester. Ray and Gertrude Marshall, longtime members and supporters of the ACF, as well as the general membership of the ACF, established a scholarship fund for aspiring culinarians. Priority goes to students attending accredited programs. Local ACF chapters also give hundreds of dollars per year to ACF junior members attending culinary arts programs.