Program Snapshot
Academic Credential
Certificate
Average Time to Complete
10 Months
Academic Pathway
Health Sciences
Advisor
Laurie Womble, BHs, CDA
Dental Assisting Coordinator
850.769.1551, ext 5842
lwomble@gulfcoast.edu

Academic Program Specialist
850.913.3311
Health SciencesGCSC@gulfcoast.edu

Submit a Program Application
Visit the Dental Asst. Website
Dental Assisting, Certificate
Welcome to the Dental Assisting Program at Gulf Coast State College. These pages provide an overview of the program and a survey of program highlights. Thank you for visiting our site. We look forward to serving your educational needs.
The Dental Assisting program is a limited access program. A selective admissions policy and specific selection criteria are used select the most qualified applicants. The strength of the applicant pool varies year to year, with the best qualified applicants receiving first consideration. It is the applicant's responsibility to inquire about these specific admission and selection criteria and to ensure that all required documents are received on campus prior to the published deadline.
For more information about our graduation rates, the median debt of students who completed this program and other important information, please visit www.gulfcoast.edu/ge/deas
About the Dental Assisting Program at GCSC
The dental assistant is a multi-skilled member of the dental health team, dedicated to assisting the dentist with all phases of dentistry.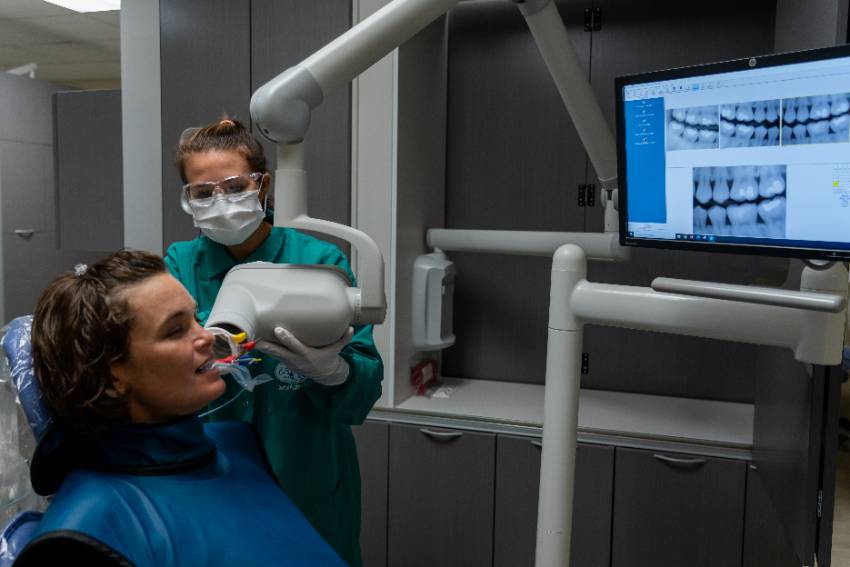 Dental Clinic
Dental Assisting Course Requirements Examples
Dental Nutrition
Microbiology
Pharmacology
Clinical Practice Coures
Dental Courses
Oral Pathology
Dental Radiology Courses
Anatomy & Physiology
A complete list of courses with descriptions can be found in the Catalog
Dental Assisting Information
Role of the Dental Assistant
The dental assistant is a multiskilled member of the dental health team, dedicated to assisting the dentist with all phases of dentistry. Dental Assistants may perform any of the following:
Seating patients in the treatment area
Passing requested instruments to the dentist during dental procedures
Sterilization and preparation of instruments
Taking impressions of teeth for study models
Polishing clinical crowns
Exposing and developing X-rays
Educational Requirements
A full-time student can complete the Dental Assisting Program in as little as ten months. Coursework is delivered through a full- time traditional schedule (Monday-Friday), which includes classroom lectures, web courses, and clinical experiences, both on campus and in local dental offices.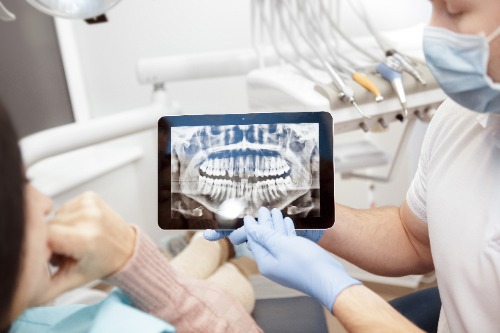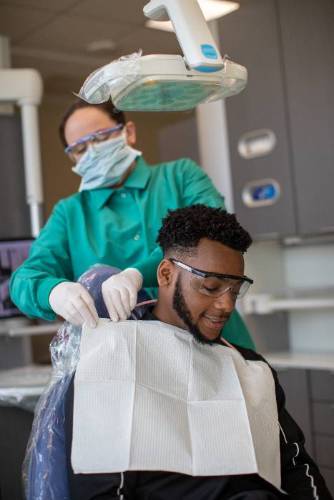 GCSC Dental Clinic
Gulf Coast State College offers a state-of -the-art patient dental clinic at the Panama City Campus in the George C. Tapper Health Sciences Building which provides patient care opportunities to our community. This high tech dental clinic allows for students in the dental programs to become highly skilled dental auxiliaries while working alongside licensed dentist, registered dental hygienists, and certified dental assistants.
Are you ready to Get Started?
How to apply to the Dental Assisting Program
Apply for Financial Aid & Scholarships
There are many options available to help you pay for college. Find out more about scholarships and financial aid at Gulf Coast State College.