Program Snapshot
Academic Credential
Associate in Science (AS)
Average Time to Complete
2 yrs.
Academic Pathway
Health Sciences
ADVISOR FOR LAST NAME N-Z
Melinda Cumbaa, PT, DPT
PTA Program Coordinator
850.913.3312
mcumbaa@gulfcoast.edu

ADVISOR FOR LAST NAME A-M
Adam Padgett, PTA
Assistant Coordinator & ACCE
850.769.1551, ext. 6180
apadgett@gulfcoast.edu

Academic Program Specialist
Alyssa Evans
850.913.3311
Health SciencesGCSC@gulfcoast.edu

ACCESS THE PROGRAM ROADMAP
Physical Therapist Assistant, AS
Would You Like a Career as a Physical Therapist Assistant?
If you have an interest in healthcare, a strong background in science, and like to help people move, then our Physical Therapist Assistant, AS degree program is for you. This program is designed to prepare you for entry-level work as a physical therapist assistant. Gulf Coast State College offers the necessary courses to help you develop the skills that employers are looking for today. You will get hands-on training in the field of physical therapy through both academic laboratory and clinical practice. This program will prepare you to take the national licensure examination through the Federation of State Boards of Physical Therapy (FSBPT), and is accredited by the Commission on Accreditation in Physical Therapy (CAPTE).
The Physical Therapist Assistant Program at Gulf Coast State College is accredited by the Commission on Accreditation in Physical Therapy (CAPTE), 1111 North Fairfax Street, Alexandria, VA 22314; telephone (703) 706-3245, email: accreditation@apta.org; website: www.capteonline.org. If needing to contact the program/institution directly, please call (850) 913-3312, or email mcumbaa@gulfcoast.edu.
PTAs are employed in a variety of settings including hospitals, rehabilitation centers, nursing homes, home health agencies, schools, and outpatient physical therapy clinics. According to the U.S. Bureau of Labor Statistics, the mean annual wage for physical therapist assistants working in the United States was estimated to be between $37,000 - $80,000, with the mean at $60,000. In our geographical area, new graduates typically start at the lower end of this range.
Physical Therapist Assistant Course Requirements
Select One:
Visual & Performing Arts
Philosophy/Religion
Literature
Select One:
MAC1105, College Algebra
MAC2311, Calculus with Analytical Geometry I
MGF1106, Mathematics for Liberal Arts

MGF1107, Survey of Mathematics
STA2023, Statistics
BSC2085, Anatomy and Physiology I
Select One:
POS2041, American National Government or AMH2020, United States History II and demonstrate Civic Literacy Competency
PSY2012, General Psychology
BSC2085L, Anatomy and Physiology Lab I
BSC2086, Anatomy & Physiology II
BSC2086L, Anatomy & Physiology II Lab
HSC1531, Medical Terminology
PHT1000, Intro. to Physical Therapy
PHT1102, Applied Anatomy for PTAs
PHT1102L, Applied Anatomy Lab for PTAs
PHT1200, Basic Skills in Patient Care
PHT1200L, Basic Skills in Patient Care Lab
PHT1124, Functional Human Motion
PHT1124L, Functional Human Motion Lab
PHT1131, Assessment, Measure, Document
PHT1131L, Assessment, Measurement and Documentation Lab
PHT1220, Intro. to Therapeutic Exercise
PHT1220L, Therapeutic Exercise Lab
PHT2224, Therapeutic Interventions I: Medical/Surgical Disabilities
PHT2224L, Therapeutic Interventions I Lab
PHT2211, Therapeutic Modalities
PHT2211L, Therapeutic Modalities Lab
PHT2225, Therapeutic Interventions II: Orthopedic Disabilities
PHT2225L, Therapeutic Interventions II Lab
PHT2226, Therapeutic Interventions III: Neurological Disabilities
PHT2226L, Therapeutic Interventions III Lab
PHT2801, PTA Clinical Practice I
PHT2810, PTA Clinical Practice II
PHT2820, PTA Clinical Practice III
PHT2931, Seminar
What can you do with a Physical Therapist Assistant?
Gulf Coast program graduates typically site for the National Physical Therapist Assistant Exam following graduation. The following represents our first attempt pass rates:
Class of 2020: 94%
Class of 2021: 93%
Gulf Coast PTA alumni are incredibly employable. The following represents the percentage of students who found employment within one year of graduation:
Class of 2020: 94%
Class of 2021: 100%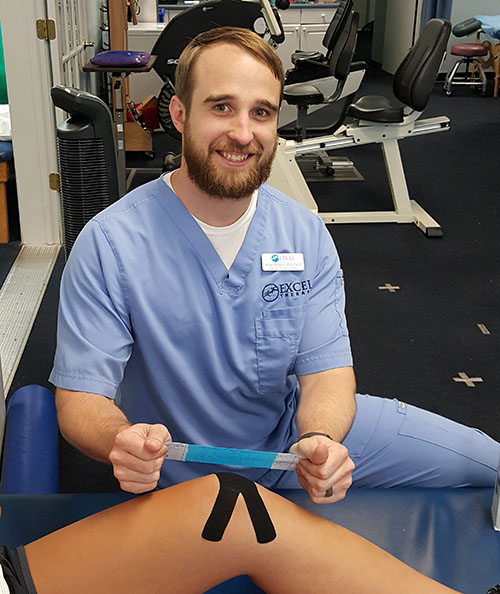 "The Physical Therapist Assistant program at GCSC was more than just 'the next stop' in my education. They prepared me academically and professionally for my future career; my classmates and instructors became my greatest friends. A large part of my success today is due to the hard work and attention to detail my instructors placed in my education."
-Adam Padgett
Physical Therapist Assistant, Excel Therapy, LLC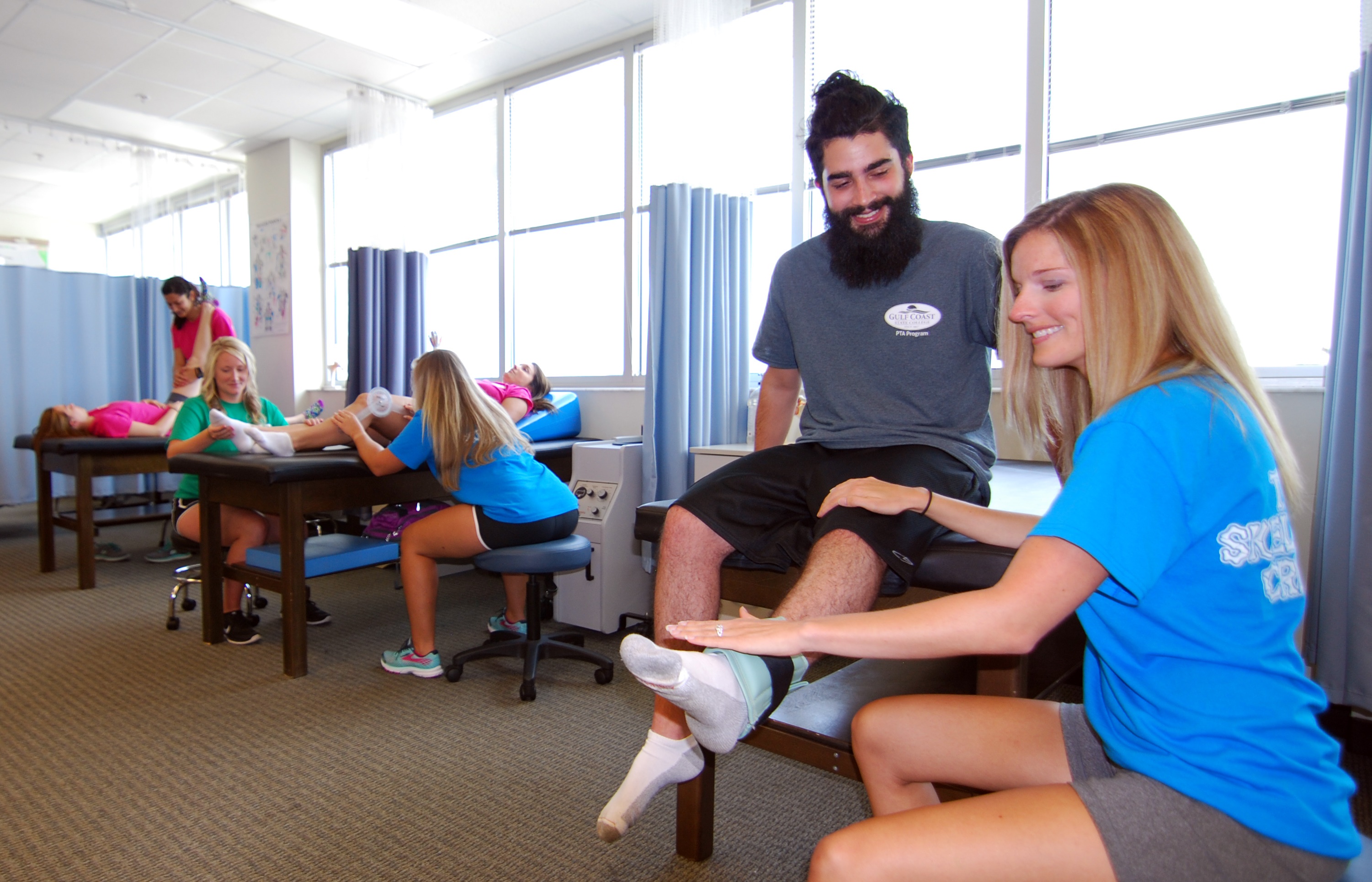 Physical Therapist Assistant Lab
You'll acquire the skills you need to be successful in Gulf Coast State College's Physical Therapist Assistant Laboratory, overlooking the beautiful bay on our Panama City campus. Our state-of-the-art laboratory space will enable you to perform simulated treatments using current technology.
Are you ready to get Started ?
Apply for Financial Aid & Scholarships
There are many options available to help you pay for college. Find out more about scholarships and financial aid at Gulf Coast State College.