Program Snapshot
Academic Credential
Certificate
Academic Pathway
Health Sciences
ADVISOR FOR LAST NAME A-M
Shannon E. Smith, M.H.Sc., CDEI, CST, CSFA, FAST
Surgical Services Program Coordinator
850.873.3551
ssmith@gulfcoast.edu

ADVISOR FOR LAST NAME N-Z
Brittany Page, AS, CST, CSFA
Assistant Coordinator
850.769.1551, ext. 5881
bpage2@gulfcoast.edu

Academic Program Specialist
Alyssa Evans
850.913.3311
Health SciencesGCSC@gulfcoast.edu

Program Application/Information
Visit the Health Sciences Website
Registered Nurse First Assistant, Certificate
Take the Next Step Toward Becoming a First Assistant
Now that you've been working as an operating room registered nurse (RN) or advanced registered nurse practitioner (ARNP), you realize that you want to do more in a surgical career. The registered nurse first assistant program is one of our Advanced Technical Certificate Programs (ATC) offered in Panama City, Florida, and prepares RNs for assisting the surgeon during surgery. Graduates will meet the program completion requirements to sit for the RNAS-C and CRNFA certification examination provided all other minimum requirements by the National Assistants at Surgery Certification (NASC) are met.
Getting your RNFA certificate in nursing is an important way to fast-track your career into the Surgical Department.
The program consists of 9 college credits (3 classes). Upon successful completion of all courses with a C or better you are awarded an advanced technical certificate (ATC).

If you are CNOR certified or are CNOR eligible, you can submit your CNOR certification for external credit for the first class.

This program is listed on the National Assistants at Surgery Certification (NASC) web page as the only RNFA program in Florida. The program meets all the AORN and NASC requirements for the core curriculum. In addition, we are associated with our accredited nursing programs including the RN to BSN and ADN programs.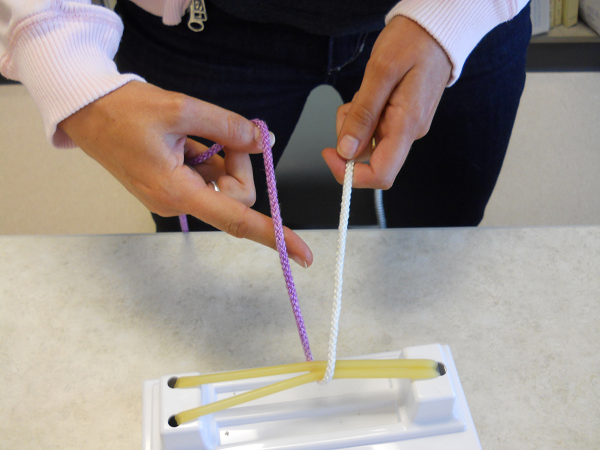 Registered Nurse First Assistant Certificate Course Requirements
NSP2290, Perioperative Nursing Theory or proof of certification as a perioperative nurse (CNOR)
NSP2090, Registered Nurse First Assistant Theory
NSP2090L, Registered Nurse First Assistant Lab and Clinical

What can you do with a Registered Nurse First Assistant Certificate?
Where do you work?
Hospitals or ambulatory care centers
For a surgeon or surgical group
Join a group of surgical assistants or open your own business working with several surgeons
Opportunities abound, are you interested in traveling? You can apply for traveling assignments throughout the United States including Alaska and Hawaii.
What do graduates do?
Anticipate the next step assisting with the correct instrumentation, supply or equipment thereby facilitating the surgical procedure.
Work alongside surgeons, making rounds, seeing patients in the office, and assisting in surgery.
What does your work environment look like?
Usually full time; may require call for nights, weekends and holidays.
May require work shifts greater than 8 hours
May require standing long hours.
Surgical Simulation Lab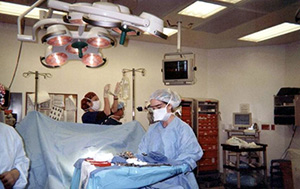 This high-tech nursing lab in the George C. Tapper Health Sciences Building on the Panama City campus offers four high fidelity surgical operating room setups to practice and prepare for live surgery experiences.
Registered Nurse First Assistant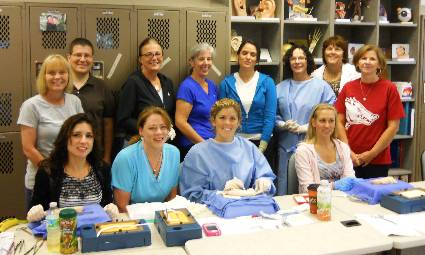 Gaining confidence and experience prior to the surgical case can facilitate your experience so you can gain more real life hands-on experience quickly due to the advance preparation.
Registered Nurse First Assistant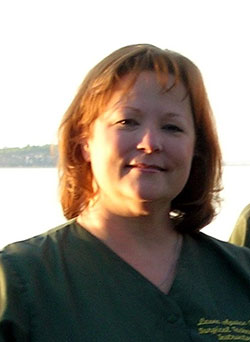 Meet Laura, RN, RNFA, Cardiovascular Specialty
"Working in the operating room as a RNFA has been a valuable experience. I work in open heart surgery as a RNFA harvesting vein for bypass surgery and assisting during the surgical procedure. I have been a preceptor for the program, working with students and faculty. It is a great career!"
– Cardiovascular RNFA, Surgical Services Past Faculty, Bay Medical Sacred Heart
Are you ready to Get Started?
Apply for Financial Aid & Scholarships
There are many options available to help you pay for college. Find out more about scholarships and financial aid at Gulf Coast State College.