Program Snapshot
Academic Credential
Associate in Science (AS)
Average Time to Complete
2 yrs.
Academic Pathway
Health Sciences
ADVISOR FOR LAST NAME A-M
Shannon E. Smith, M.H.Sc., CDEI, CST, CSFA, FAST
Surgical Services Program Coordinator
850.873.3551
ssmith@gulfcoast.edu

ADVISOR FOR LAST NAME N-Z
Brittany Page, AS, CST, CSFA
Assistant Coordinator
850.769.1551, ext. 5881
bpage2@gulfcoast.edu

Academic Program Specialist
Alyssa Evans
850.913.3311
Health SciencesGCSC@gulfcoast.edu

Visit the Surgical Services Website
ACCESS THE PROGRAM ROADMAP
Surgical First Assistant, A.S.
Do You Want to Work Side by Side with a Surgeon Performing Life Changing Procedures?
This program will prepare you for the roles of Surgical Technologist (who prepares, opens and establishes the sterile field passing instruments and anticipating the surgeon's needs) and Surgical First Assistant (who assists the surgeon with performing the surgical procedure and independently closes wounds).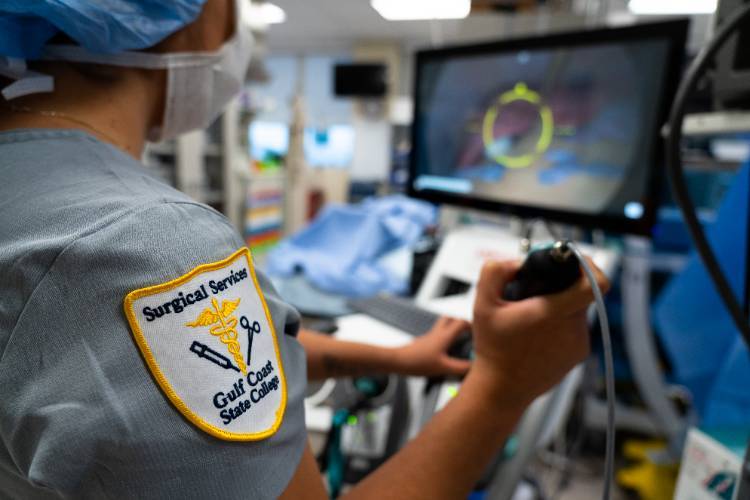 Would you like to work in a unique environment?
It is a challenging fast paced environment that can change human lives. An emergency can occur anytime and no two human beings are alike so… it is never boring.
Every day is spent exploring the human body, becoming familiar with surgical techniques, procedures and treatments.
There is always something new every day. Technology and innovative changes are ongoing.
A surgeon mentor provides the training and guidance to perfect your surgical techniques such as tissue manipulation and wound closure.
As you mature, you can opt to specialize in a particular field such as General Surgery, Trauma, Open Heart, Orthopedics, Gynecology/Obstetrics, Robotic and/or Neuro Surgery.
Surgical First Assistant Course Requirements
Select One:
Visual & Performing Arts
Philosophy/Religion
Literature
Select One:
MAC1105, College Algebra
MAC2311, Calculus with Analytical Geometry I
MGF1106, Mathematics for Liberal Arts

MGF1107, Survey of Mathematics
STA2023, Statistics
BSC2085, Anatomy and Physiology I
PSY2012 or SYG2000 Psychology/Sociology
POS2041, American National Government or AMH2020, United States History II and demonstrate Civic Literacy Competency
HSC1000, Orientation to Perioperative Services
HSC1000L, Orientation to Perioperative Services Lab
HSC1531, Medical Terminology
HSC2520, Microbiology for Perioperative Services
BSC2085L, Anatomy and Physiology Lab I
BSC2086, Anatomy & Physiology II
BSC2086L, Anatomy & Physiology II Lab
STS1310, Surgical Tech & Procedures
STS1310L, Surgical Tech & Procedures Lab/Clinical
STS1340C, Pharmacology & Anesthesia
STS1940C, Introduction to Surgery Clinical
STS2323, Surgical Procedures I
STS2323L, Surgical Simulation I Lab
STS2324, Surgical Procedures II (effective Fall 2023)
STS2324L, Surgical Simulation Lab II
STS2330C, Principles of Surgical Assisting
STS2335, Advanced Integrated Surgical Sciences
STS2336, Advanced Surgical Procedures for the Surgical Assistant
STS2361, The Art of Teamwork in Surgery
STS2365, Professional Skills for the OR Team
STS2370, Surgical Assisting Clinical
STS2936, Surgical Certification Symposium
STS2944C, Surgical Clinical I
STS2945C, Surgical Clinical II
STS2953, Surgical Technologist Portfolio I
STS2954, Surgical Technologist Portfolio II
STS2366C, Surgical Assistant Professional Skills (effective Fall 2023) OR *STS2367, Management in Healthcare
What can you do with a Surgical First Assisting Program?
Prepare operating rooms, arrange equipment, prepare and maintain sterile field, prevent the risk of infection, and assist with surgical operations.
Anticipate the next step, passing instrument, supplies or equipment thereby facilitating the surgical procedure.
Work alongside surgeons, making rounds, seeing patients in the office, and assisting in surgery.
Surgical first assistants work within the surgical field to inject local anesthetic, make incisions, insert trocars, manipulate tissue, provide hemostasis, provide retraction, dissect tissue, suture tissue, close wounds, apply casts, and other actions as directed by surgeon.
You can open your own business or work with a group of surgical assists independently who assist surgeons in surgery.

You may go on to obtain a bachelor's degree in organizational management at GCSC or in healthcare or business management with other institutions.
You may also move into other related branches of medicine such as a physician's assistant, registered nurse or physician.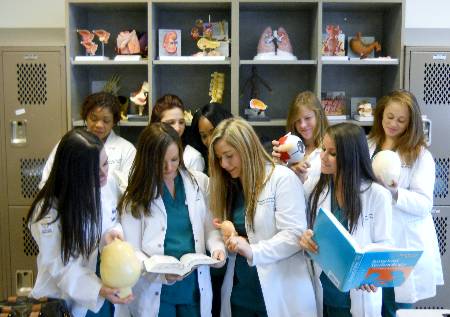 Surgical First Assistant Students.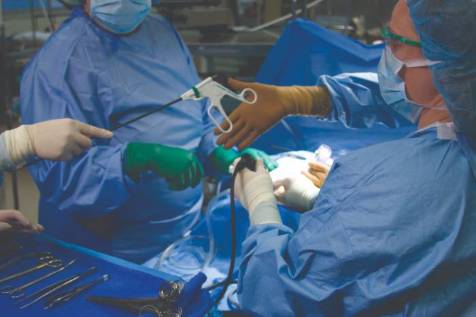 Surgical Sterile Equipment
Are you ready to get Started ?
Apply for Financial Aid & Scholarships
There are many options available to help you pay for college. Find out more about scholarships and financial aid at Gulf Coast State College.