Program Snapshot
Academic Credential
Associate in Arts (AA)
Average Time to Complete
2 yrs.
Academic Pathway
Humanities, Arts, Design, Communication
Advisor
Tammy Marinuzzi
Professor, Visual and Performing Arts
850.769.1551 ext 2890
tmarinuzzi@gulfcoast.edu

Senior Administrative Assistant
Danyelle Alexander
850.872.3886
dalexand2@gulfcoast.edu

ACCESS THE PROGRAM ROADMAP
Art, A.A.
Are You Passionate About Visual Art?

Follow Your Passion. Develop Your Craft. Create Your Future.
Do you want to put your creativity to use? Come study more about drawing, art history, design, photography, and other areas, and watch your passion become your career as you grow and develop in your unique skills.
As a visual art student at GCSC, you will receive a quality education with the opportunity to focus on studio art, graphic design, art history or art education. The visual arts program offers a wide range of classes including design, drawing, painting, ceramics, art, history/criticism, portfolio and preparation and digital photography.
You'll experience visual arts first-hand by participating in art exhibits held at the Amelia Center Gallery, where you will be able to display your work to the community; Also, you will attend lectures and demonstrations with guest artists.
Because of small classes, faculty members are able to spend individual time with you. If you are interested in expanding your horizons, you can participate in the study-abroad program and join the student art club, Visionaries, Ink.
This transfer track prepares students for a career in the visual arts. Visual arts is a limited access program at most universities. Students are encouraged to be familiar with the admissions requirements at the university they plan to attend. For example, some visual arts specialized programs within a university require two years of a foreign language.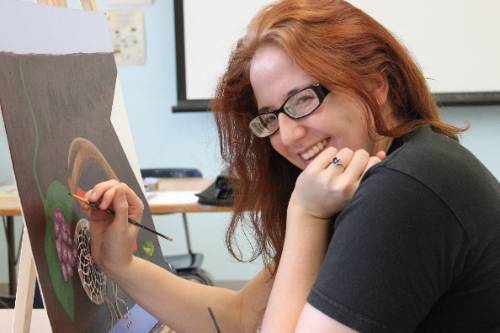 Art Course Requirements
ENC1101, English I
ENC1102, English II
ARH2000, Understanding Visual Art
Philosophy/Religion
Literature
Select 6 hours:
MAC1105, College Algebra
MAC2311, Calculus with Analytical Geometry I
MGF1106, Mathematics for Liberal Arts
MGF1107, Survey of Mathematics
STA2023, Statistics
Physical Science
Biological Science
Behavioral Sciences
History
Government
ART1201C, Design I
ART1203C, Design II
ART1300C, Drawing I
ART1301C, Drawing II
ARH2050, Art History Criticism I
ARH2051, Art History Criticism I
ART2955, Portfolio and Resume Development
Select 3 hours:
Electives
What can you do with an Art Degree?
In this field, people find careers as:
Professional Artist
Illustrator
Photographer
Animator
Graphic Designer
Curator
Printmaker
Art Teacher/University Lecturer
Gulf Coast alumni of this program have continued their education at:
University of Florida
University of Miami
Florida State University
University of West Florida
University of Central Florida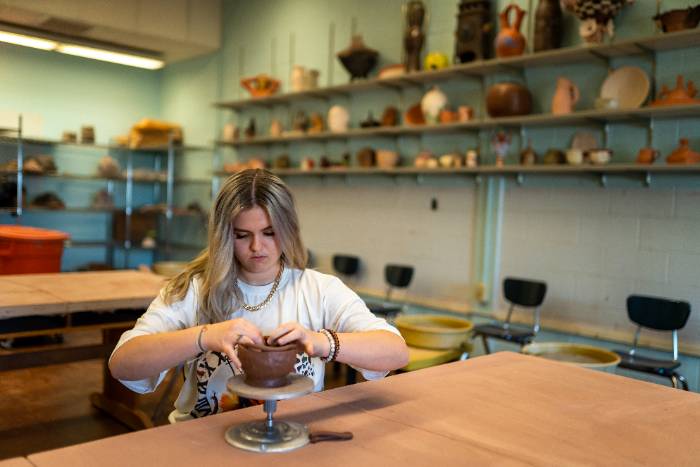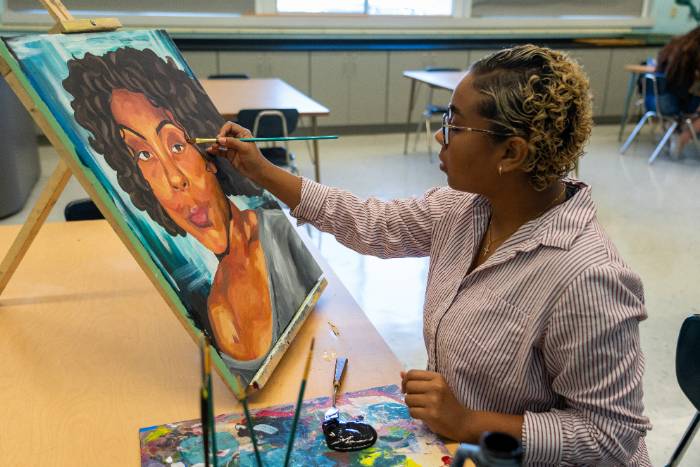 Are you ready to Get Started?
Apply for Financial Aid & Scholarships
There are many options available to help you pay for college. Find out more about scholarships and financial aid at Gulf Coast State College.