Program Snapshot
Academic Credential
Certificate
Academic Pathway
Public Safety
Advisor
Greg May
Public Safety Coordinator
850.913.3297
gmay@gulfcoast.edu

Senior Administrative Assistant
Elizabeth Kelly
850.872.3878
ekelly@gulfcoast.edu

Visit the Public Safety Website
Crossover Correctional Law Enforcement, Certificate
Are You a Florida Corrections Officer That Would Like to be Dual Certified?
If you are a correctional officer that would like to become dual certified as a law enforcement officer, Gulf Coast State College offers the Crossover Correctional Officer to Law Enforcement Officer program. The Criminal Justice Standards and Training Commission (F.D.L.E.) has established the basic recruit cross-over training programs to provide lateral movement of officers between criminal justice disciplines. Within this cross-over program, selected sections of the Florida Law Enforcement Academy have been modified to fit the needs of Correctional Officers desiring certification as Florida Law Enforcement Officers.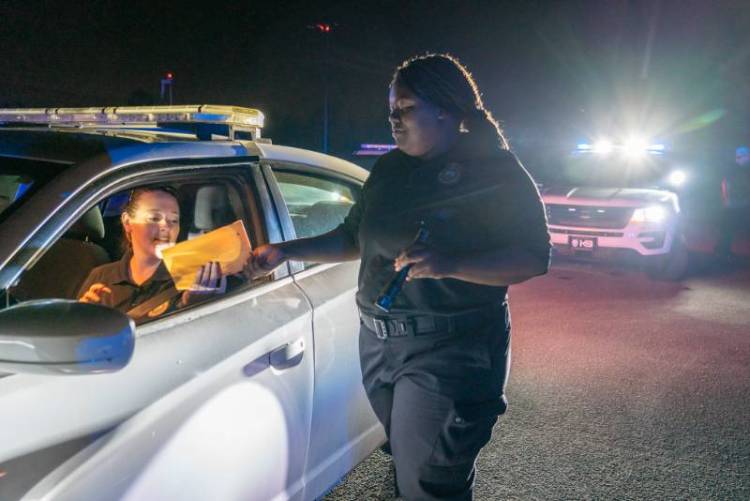 Cross-Over Corrections to Law Enforcement Course Requirements
CJK0002, Introduction to Law Enforcement
CJK0018, Legal
CJK0016, Communication
CJK0019, Interviewing and Report Writing
CJK0063, Fundamentals of Patrol
CJK0021, Serving Your Community
CJK0072, Crimes Against Persons
CJK0073, Crimes Involving Property and Society
CJK0079, Crime Follow-Up Investigations
CJK0093, Critical Incidents
CJK0400, Traffic Incidents
CJK0401, Traffic Stops
CJK0403, DUI Traffic Stops
CJK0402, Traffic Crash Investigations
CJK0393, Cross-Over Program Updates
CJK0020C, CMS L.E. Vehicle Operations
CJK0421, Conducted Electrical Weapon/Dart-Firing Stun Gun
What can you do with a Cross-Over Corrections to Law Enforcement Certificate?
In this field, people find careers as:
Florida Highway Patrol
Florida Fish and Wildlife Conservation Commission
Division of Alcoholic Beverages and Tobacco
Deputy Sheriff Officers
Police Officers
Gulf Coast alumni of this program have continued their education at:
Gulf Coast State College
College of Central Florida
Broward College
Sante Fe College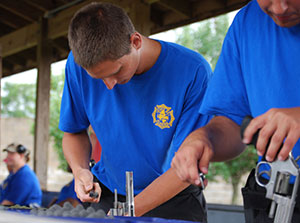 Firing Range
Our North Bay Campus has all the facilities necessary to develop the skills needed in your new profession. Talk to the advisor today to see the variety of labs, ranges, and simulations that will be used during your training at Gulf Coast State College.
Who is eligible for the Cross-Over Correctional to Law Enforcement Certificate Program?
To be eligible to apply to the program, you must:
You must be currently certified as an F.D.L.E corrections officer.
Be a U.S. citizen
Have a high school diploma or GED
Be at least 19 years of age
Not discharged from the Armed Forces under dishonorable conditions
Be of good moral character and NOT have been convicted of a felony, or any misdemeanor involving lying or perjury
Pass a physical examination by a licensed physician, nurse practitioner or physician's assistant attesting capability of performing essential functions of the officer position
Submit to and pass background investigation that includes a fingerprint check
Passing score on the Florida Basic Abilities Test.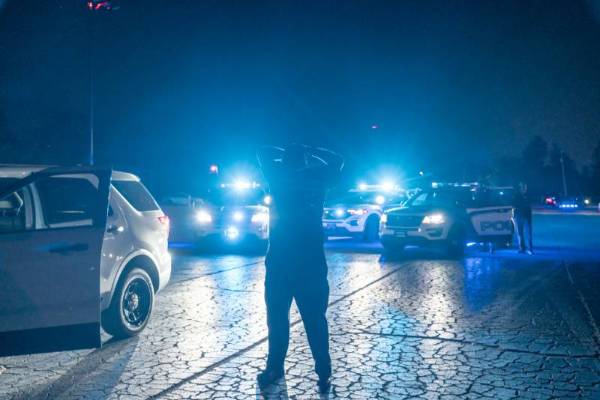 How do I apply to the Cross-Over Corrections to Law Enforcement Certificate Program?
You must download complete the law enforcement officer certificate program application packet in its entirety, inclusive of completing all pages of the application, having the pages of the application that require notarization so notarized, providing all required documentation copies; and, providing a color, passport size (2 x 2 inch), current photo. Incomplete applications will not be accepted; and, will delay your entry into the law enforcement academy.
You must successfully complete the CJBAT (Criminal Justice Basic Abilities Test) for law enforcement (cost -$39); and, attain a passing score of 70 or above, under Florida law, on the CJBAT in order to enter the academy.
You must submit to being fingerprinted, and successfully complete, the associated background investigation (cost - $85). If you have ever been convicted of any felony; or, any misdemeanor involving perjury, false statement, or any charge relating to domestic violence, you are ineligible to attend any law enforcement academy in the State of Florida. Also, if you were convicted of a felony as a juvenile; you cannot be in the constructive possession of a firearm until you are twenty-four years of age and will therefore not be able to attend the law enforcement academy until said age is attained.
You must submit to, and successfully pass, a physical examination (your cost) performed by a Florida licensed Physician (MD), Nurse Practitioner (ARNP); or, Physician's Assistant (PA). The academy physical MUST be completed on CJSTC Form 75-B, that is contained within the attached law enforcement academy application. NOTE: If for any reason, medical or otherwise, you are incapable of being exposed to Oleo-Resin Capsicum (commonly known as pepper spray) you will not be able to attend the academy. Additionally, within the first two weeks of the academy you must undertake a physical fitness test comprised of a maximum effort vertical jump, maximum effort push-ups for one minute, maximum effort sit-ups for one minute, a 300 meter run; and, a 1.5 mile walk/run. The exact same test will be administered during the last two weeks of the academy in order to determine if satisfactory physical fitness progress over the course of the academy was achieved.
Complete an pre-entrance interview with Greg May, scheduled by appointment only, when you have fully completed all of the law enforcement academy application materials. This means that you have completely filled out all of the law enforcement academy application pages, have had the forms that require notarization so notarized, have all of the required documentation copies, have your color passport size photo, have successfully passed the CJBAT exam, have had your fingerprints rolled for the background investigation; and, have had your physical exam. Incomplete applications will not be accepted; and, will delay your entry into the law enforcement academy.
Are you ready to Get Started?
Apply for Financial Aid & Scholarships
There are many options available to help you pay for college. Find out more about scholarships and financial aid at Gulf Coast State College.