Program Snapshot
Academic Credential
Certificate
Academic Pathway
Public Safety
Advisor
Daryl White
Associate Director, Criminal Justice and Law Enforcement Programs
850.769.1551 ext. 5613
dwhite6@gulfcoast.edu

Senior Administrative Assistant
Elizabeth Kelly
850.872.3878
ekelly@gulfcoast.edu

VISIT MY FACULTY PAGE
Law Enforcement Officer, Certificate
Are You Interested in Helping Others and Making your Community Safe?
Do you get upset when you see others treated unfairly? Do you enjoy righting wrongs and helping others? If any of these are true about you, consider a career as a Law Enforcement Officer and be part of the solution to keeping your community safe and productive. Become the leader you were meant to be with the skills you will learn in the police academy at Gulf Coast State College.
The subjects covered in the academy will keep you interested and engaged. You will learn many subjects, such as firearms, basic first-aid, defensive tactics, constitutional law and many other subjects. You will have to demonstrate proficiency in the high liability areas of firearms, defensive tactics, vehicle operations n and first-aid. Completion of the Law Enforcement Certificate Program can be used towards the completion of the Criminal Justice A.S. Degree.
For more information about our graduation rates, the median debt of students who completed this program and other important information, please visit www.gulfcoast.edu/ge/loef.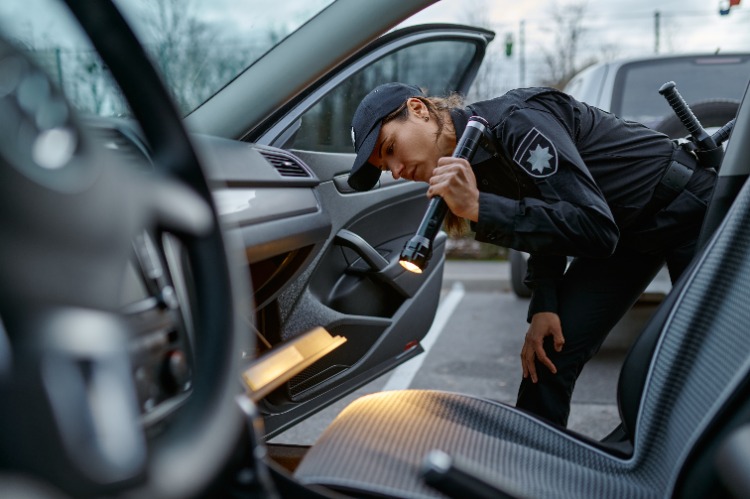 Law Enforcement Officer Course Requirements
CJK0002, Introduction to Law Enforcement
CJK0016, Communication
CJK0018, Legal
CJK0019, Interviewing and Report Writing
CJK0063, Fundamentals of Patrol
CJK0021, Serving Your Community
CJK0072, Crimes Against Persons
CJK0073, Crimes Involving Property and Society
CJK0079, Crime Scene Follow-Up Investigations
CJK0400, Traffic Incidents
CJK0401, Traffic Stops
CJK0402, Traffic Crash Investigations
CJK0403, DUI Traffic Stops
CJK0093, Critical Incidents
CJK0020C, Law Enforcement CMS Vehicle Operations
CJK0031C, CMS First Aid for Criminal Justice Officers
CJK0040C, Law Enforcement CMS Criminal Justice Firearms
CJK0051C, CMS Criminal Justice Defensive Tactics
CJK0422, Conducted Electrical Weapon/Dart-Firing Stun Gun
CJK0096, Criminal Justice Officer Physical Fitness Training
What can you do with a Law Enforcement Officer Certificate?
What jobs will you find with a Law Enforcement Officer Certificate?
Corrections Specialists
Corrections Officers
Investigations Officers
Paralegals and Legal Assistants
Security Officers
Gulf Coast alumni of this program have continued their education at:
Gulf Coast State College
Florida State University
University of Florida
Who is eligible to Apply for the Law Enforcement Officer Certificate Program?
To be eligible to apply to the program, you must:
Be a U.S. citizen
Have a high school diploma or GED
Be at least 19 years of age
Not discharged from the Armed Forces under dishonorable conditions
Be of good moral character and NOT have been convicted of a felony, or any misdemeanor involving lying or perjury
Complete a physical examination by a licensed physician, nurse practitioner or physician's assistant attesting capability of performing essential functions of the officer position
Submit to and pass background investigation that includes a fingerprint check
Passing score on the Florida Basic Abilities Test.
Why Choose Gulf Coast State College to Earn Your Law Enforcement Officer Certificate?
If you haven't already been to Gulf Coast's North Bay campus, you should know that we're located just north of Southport.
We have state of the art classrooms with the latest in electronic technology. Gulf Coast State College's law enforcement academy also has five firing ranges, a driving range, and a multipurpose room for defensive tactics.
Our instructors are among the best in the field. We use active, former and retired law enforcement officers. You will benefit from their years of experience.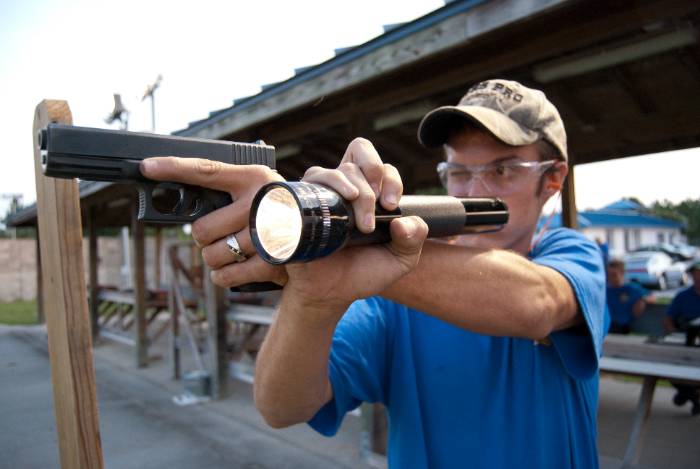 Firearms Training
Firearms training is one of the four high liability subjects which requires a student to demonstrate proficiency.
Are you ready to Get Started?
Apply for Financial Aid & Scholarships
There are many options available to help you pay for college. Find out more about scholarships and financial aid at Gulf Coast State College.