Contact
Janice Skipper, RDMS ​ (AB, BR, OB/GYN), RVT
Coordinator,
Diagnostic Medical Sonography Program
850.769.1551, x3390
jskippe10@gulfcoast.edu
diagnostic medical Sonography
Do You Want a Future in a Rewarding and Growing Healthcare Profession?
Start Today to Become a Diagnostic Medical Sonographer!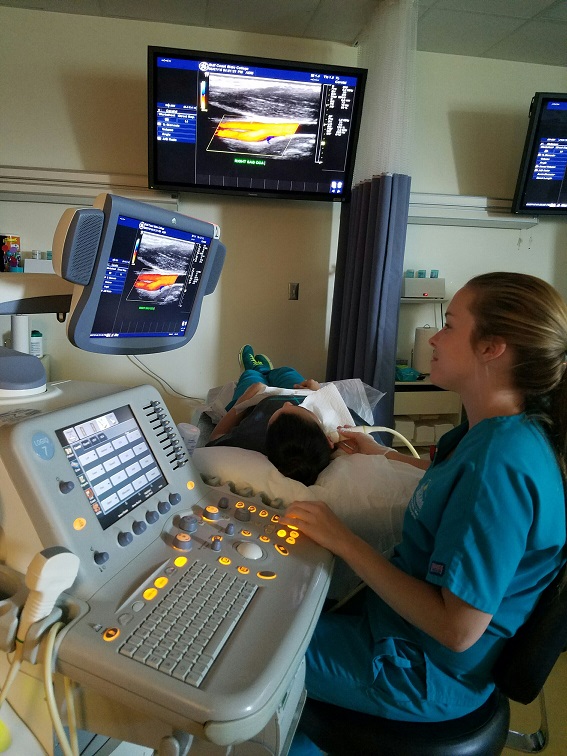 The Diagnostic Medical Sonography (Ultrasound) program is designed to prepare the student for employment as an entry-level sonographer. The sonographer is skilled by academic & clinical training to perform ultrasound examinations under the supervision of a qualified physician. Using high-tech instrumentation the sonographer uses sound waves to create images of the human body organs and structures to be analyzed and interpreted by a physician.
With changes in healthcare administration, sonography is the most utilized form of diagnostic imaging available today. Registered sonographers are in demand nationwide for hospitals, clinics, physician's offices, marketing, application specialists and mobile services.
At Gulf Coast State College, we provide a comprehensive 24 month program that includes sonographic concentrations in abdomen, obstetric and gynecology and vascular imaging. Upon graduation students may be eligible to take the national certification sonography examination by the American Registry of Radiologic Technologists (ARRT). The American Registry of Diagnostic Medical Sonographers (ARDMS) examination is available with specific requirements. For more detailed information, go to www.ARDMS.org and www.ARRT.org.
According to the Occupational Outlook Handbook, published by the Bureau of Labor Statistics at the Department of Labor diagnostic medical sonographers earned a median 2021 income of $77,740. The Department of Labor Statistics states "as technology continues to evolve, medical practitioners will continue to use sonography to replace more invasive and costly procedures".
As a Diagnostic Medical Sonographer, you will be an integral member of the healthcare team working closely with patients, physicians and other members of the healthcare field.