Program Snapshot
Academic Credential
Associate in Science (AS)
Average Time to Complete
2 yrs.
Academic Pathway
Business, Industry, Technology, Manufacturing
Advisor
Jordan Hale
Academic Program Support Specialist
850.769.1551, ext. 3838
jhale2@gulfcoast.edu

Visit the Business & Technology Website
Hospitality and Tourism Management, A.S.
Would You Like a Career in Hospitality and Tourism Management?
Hospitality and Tourism Management degrees cover a lot of ground. Who's in charge of things ranging from restaurant and hotel operations, to planning conferences and events? With a degree in hospitality and tourism, it could be you!
The hospitality industry provides an array of management positions in areas such as hotels, restaurants, event planning, theme parks, resort clubs, cruise lines and casinos.
The purpose of the Associates of Science in Hospitality and Tourism Management is to prepare you for immediate employment in an entry level position in this rewarding industry.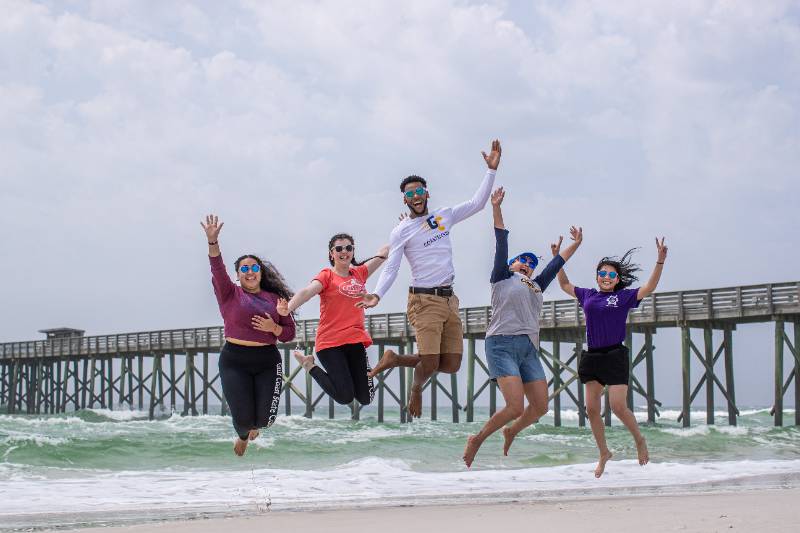 Hospitality and Tourism Management Course Requirements
Select One:
Visual and Performing Arts
Philosophy/Religion
Literature
Select One:
MAC1105, College Algebra
MAC2311, Calculus with Analytical Geometry I
MGF1106, Mathematics for Liberal Arts
MGF1107, Survey of Mathematics
STA2023, Statistics
Select One:
Physical Science
Biological Science
POS2041, American National Government or
AMH2020, United States History II and demonstrate Civic Literacy Competency
FOS2201, Sanitation and Safety
HUN1001, Survey of Nutrition
FSS1202C, Basic Food Preparation
CGS1060, Computer Fundamentals and Applications
HFT1000, Introduction to Hotel/Restaurant Mgmt
ACG2001, Financial Accounting I
BUL2241, Business Law
HFT2451, Cost Control and Purchasing
HFT1254, Lodging Operations
HFT1210, Leadership and Managerial Development
HFT2750, Convention Service Management
ENT2000, Introduction to Entrepreneurship
ACG2071, Managerial Accounting
HFT2867C, Wine Essentials
FSS1942, Culinary and Hospitality Externship
HFT1860, Beverage Management

What will you do with a Hospitality and Tourism Management Program?
In this field, people find careers as:
Front Office Manager
Director of Housekeeping
Restaurant Manager
Catering Assistant
Sous Chef
Travel Agent
Tour Guide
Marketing and Public Relations
Gulf Coast alumni of this program have continued their education at:
University of Florida
Florida State University - Panama City
University of Central Florida
Are you ready to Get Started?
Apply for Financial Aid & Scholarships
There are many options available to help you pay for college. Find out more about scholarships and financial aid at Gulf Coast State College.