GCSC's Commitment to Equality
Gulf Coast State College reaffirms our commitment to the core values we hold most dear - the open expression of ideas and perspectives, diversity of thought and culture, inclusion, respect, kindness, justice, equality, and tolerance toward all. The College is a safe place for all students, faculty, staff, and visitors – we remain our community's college! The College is dedicated to providing a nondiscriminatory learning and working environment for all. Any conduct of a violent nature or discrimination against a protected class will not be tolerated. Our students will forever be shaped by our words and actions, and we acknowledge that responsibility. While we pride ourselves on the work we have done to support inclusion, enhance diversity, and to ensure respect for all, there is clearly more we can do. Our College will take a leading role in our community to ensure that the voices of all are heard, and the hopes and dreams of all, for a better life, are empowered and sustained.
Meet Samantha Lipsey, Radiography Student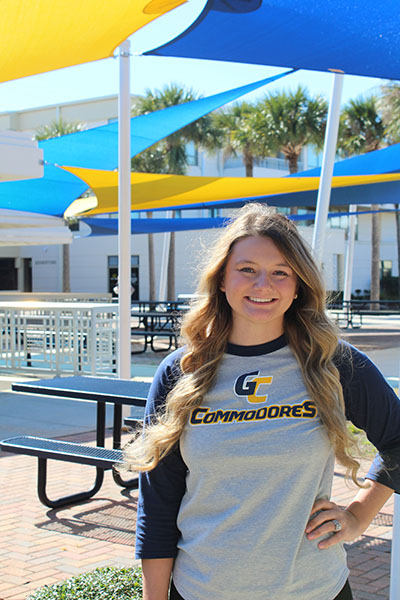 Since my first arrival at GCSC, the student body and faculty have supported me in achieving my goals. I didn't know what to expect when I graduated high school and enrolled at GCSC, but what I found can only be described as an extended family that helps and supports each other in achieving academic and personal goals.
Choose Your Degree
from Gulf Coast State College
95.4%
GCSC students hired or continue their education within a year after graduating
19:1
Ratio of GCSC students to teachers
98.6%
GCSC students recommend GCSC
Gulf Coast IS YOUR COLLEGE!
Top